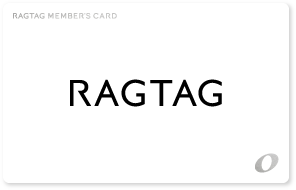 RAGTAG MEMBER'S CARD is
RAGTAG and rt stores and online shops,
This card allows you to use membership services.
RAGTAG official app
You can smoothly use convenient membership functions such as membership cards that allow you to accumulate points with the app, online shops, and purchase sites.
Advantageous member benefits
Shopping point service

You can earn 1 point for every 100 JPY RAGTAG, rt stores, and RAGTAG You can use it for the next shopping as 1 point for 1 JPY
Purchase point service

RAGTAG and rt stores, you will earn 1 point for every JPY If you collect 100 points, we will cash back JPY

* Home delivery Purchasing service and Purchasing service are not eligible.
Information on membership registration procedure