Fashion is inspiration.
Make everything your own style.
That branded clothing that I wanted to wear someday
Coordinate the whole body with that item that I thought "I wonder if it suits me"!
RAGTAG With the full support of the staff
This is a serialization project for students to try at the store.
This time, as a special edition, we will deliver "Kansai edition" from the Umeda store!
These two people tried this time!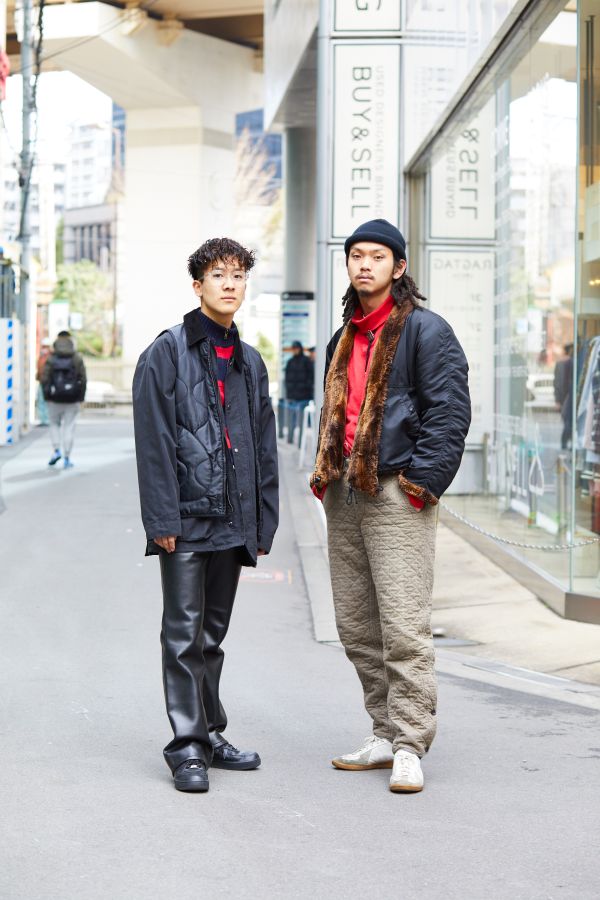 BEFORE
Left: Ren Nakagawa
Vantan Design Institute, Faculty of Fashion, Department of Fashion Production, 1st year student

Mr. Nakagawa, who is studying fashion production, is also a big fashion lover. He seems to be shopping mainly for used clothing that has a strong habit and is elaborate in detail, but he is sensitive to fashion information and he frequently checks on the media and Instagram for future work. My favorite brand these days is [Y PROJECT].
Right: Kento Kume
Doshisha University Faculty of Economics 2nd year

Mr. Kume, who looks good with his characteristic dreadlocks, is studying economics at Doshisha University and wants to do M & A and other jobs in the future. Fashion is mainly used clothing, not particular about the brand, always pursuing his own style. The theme is "Can you dress well even with cheap clothes?" The brand I'm interested in these days is [Children of the discordance].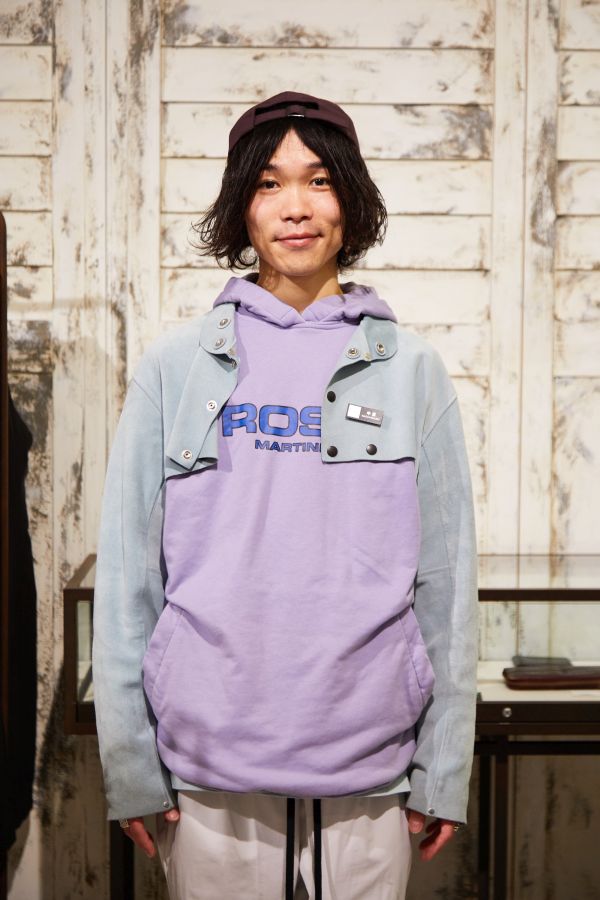 The staff in charge of customer service this time
RAGTAG Umeda store buyer
NAKAHIGASHI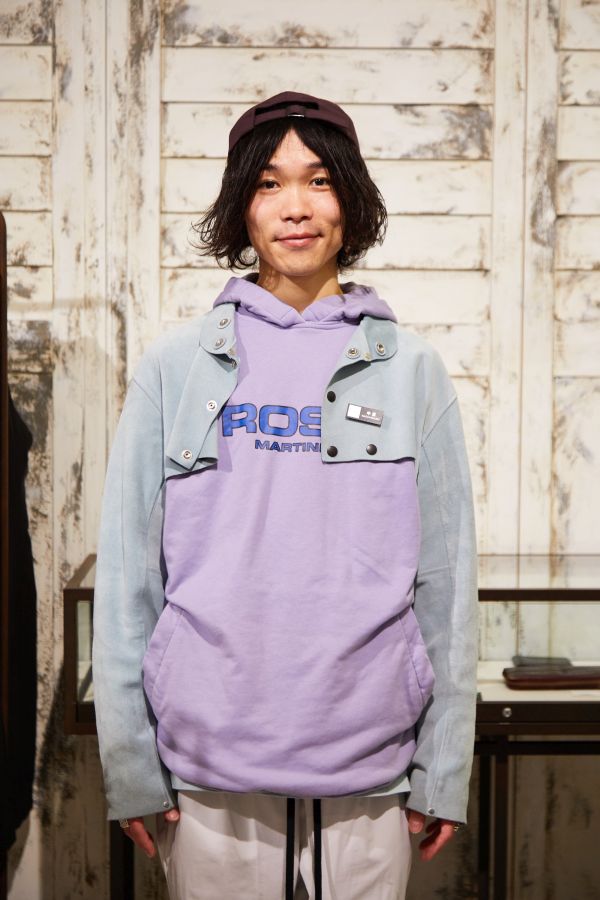 After graduating from university, he got a job at BEAMS and joined the company in 2017 after working as a cram school teacher. From the beginning, I was assigned to the Umeda store, and I have been a buyer for about half a year. "My characteristic is that the taste of the brand I want to wear keeps changing."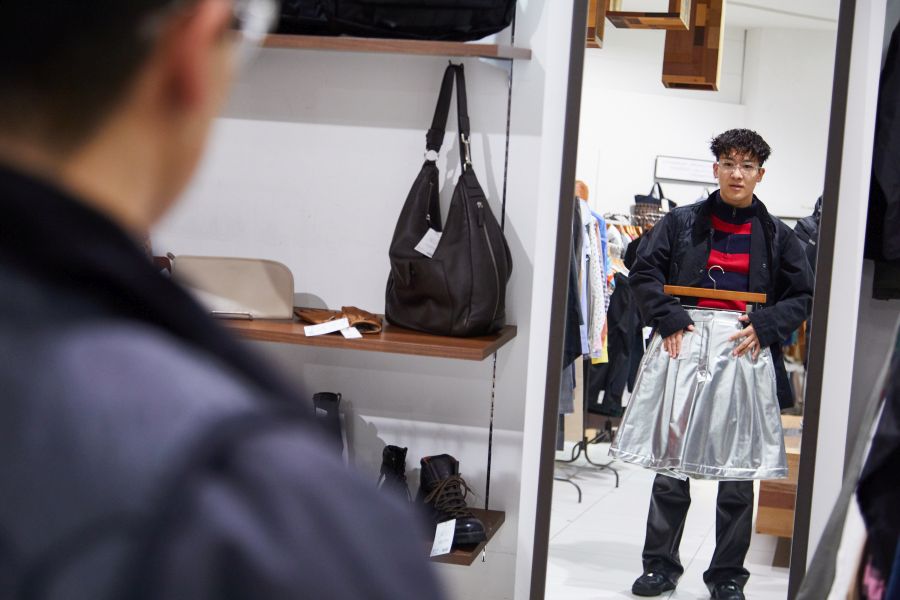 Mr. Nakagawa immediately picked up silver Shorts. You can see the feeling of taking on the challenge.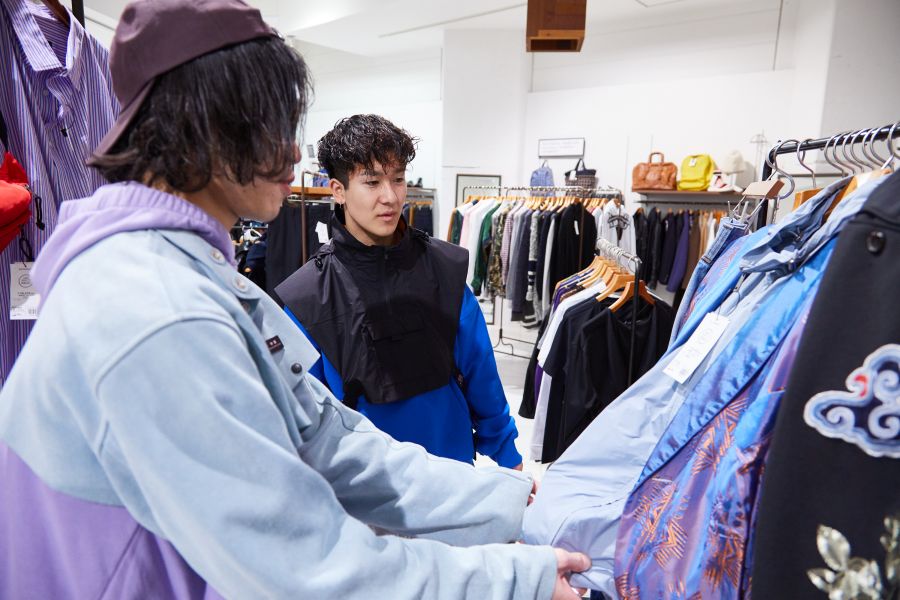 We are discussing what to match with the patterned coat.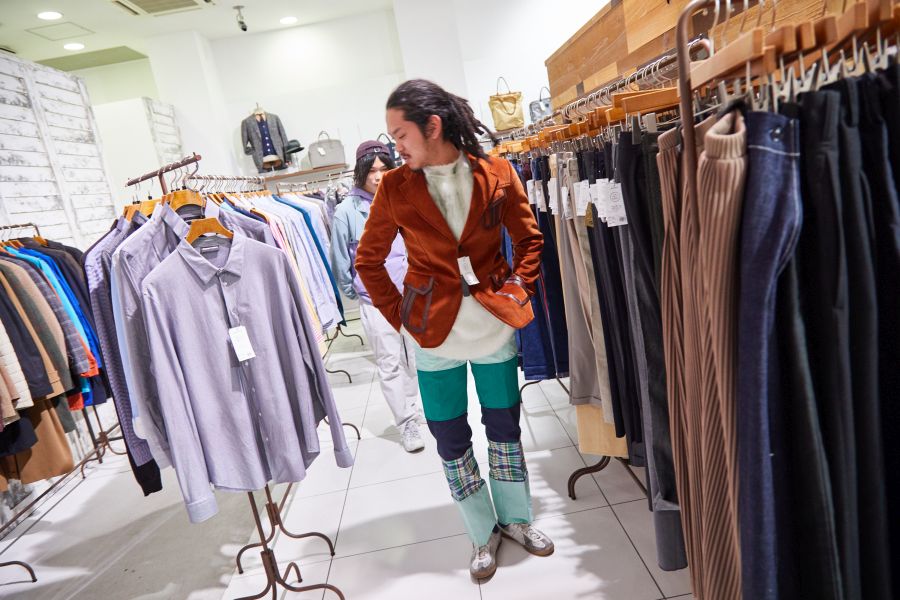 Kume is also trying on unique switching pants. I will wear everything more and more.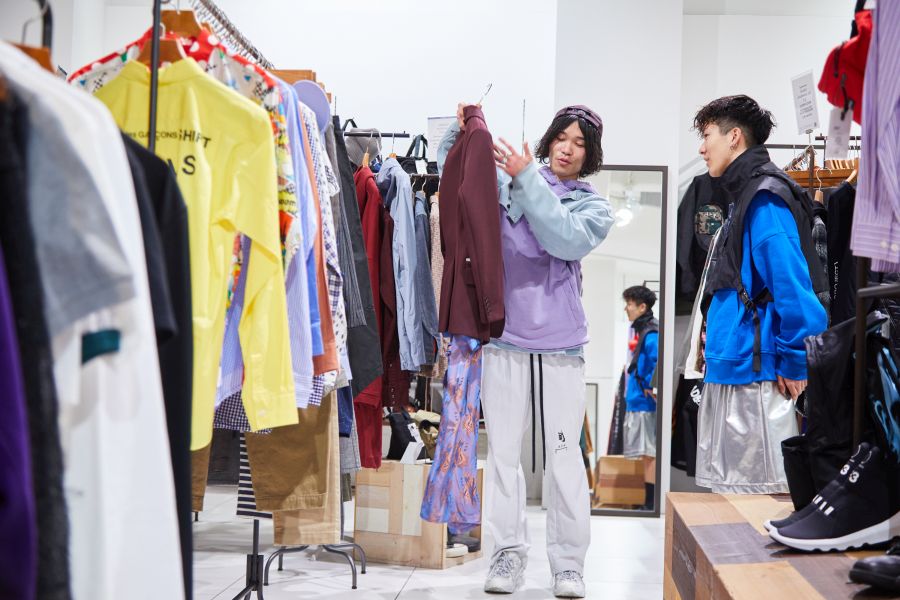 Mr. Nakagawa listens to the item explanation of the staff NAKAHIGASHI.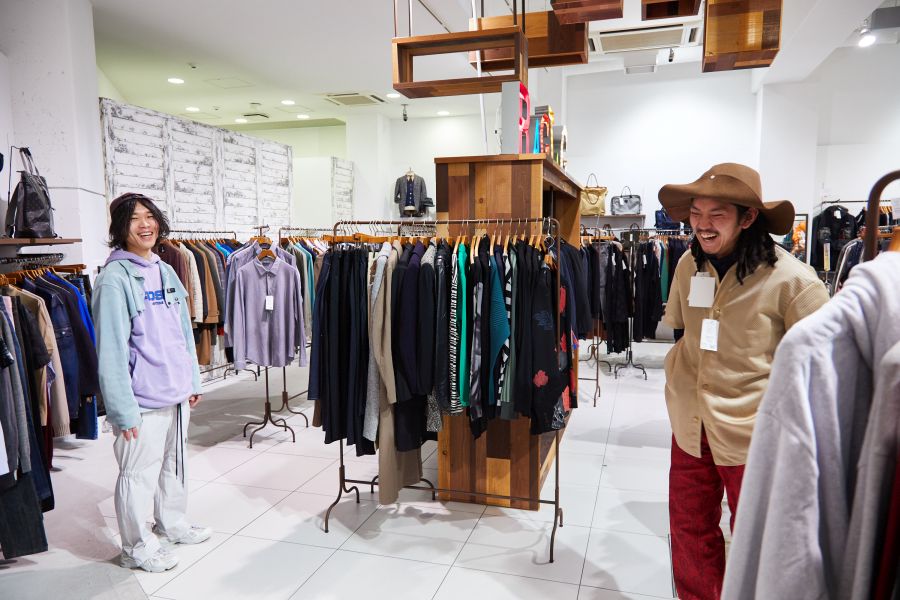 The stories of fashion-loving boys are endless.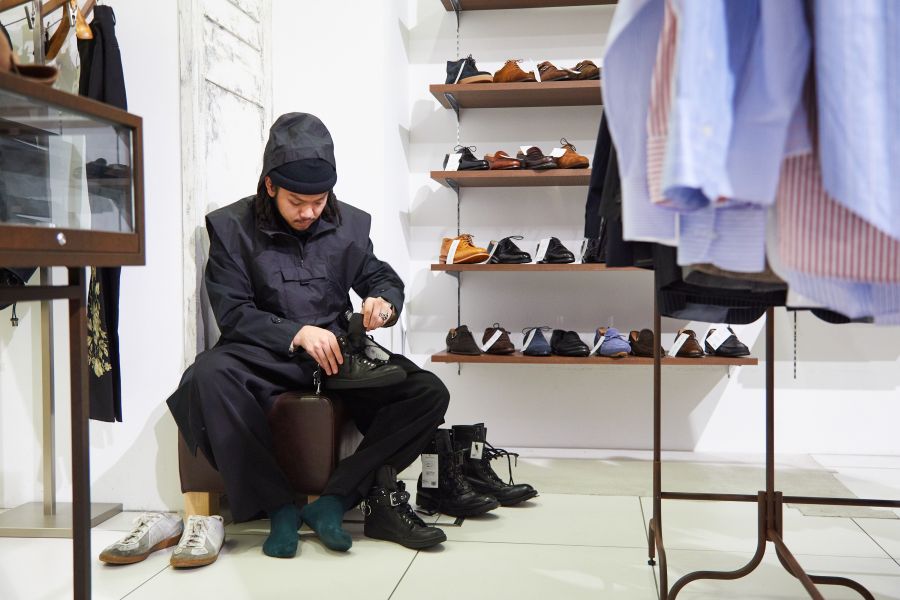 Mr. Kume who looks good in all black style. What kind of coordination will you make?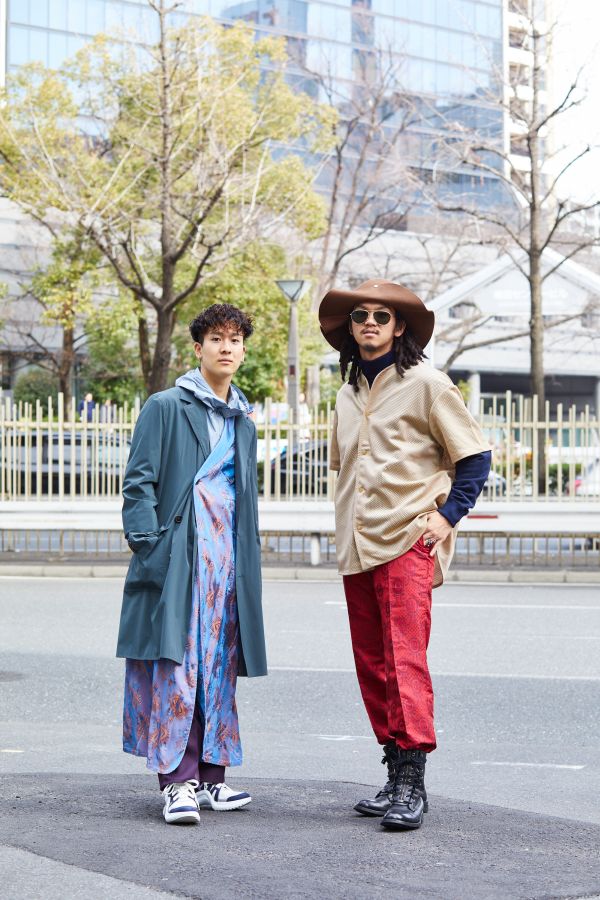 AFTER
Mr. Nakagawa
"In the beginning, I found this [Gucci] coat (which I wore inside) and layered it. It's hard to buy, so I'm happy and free with advice. I was able to coordinate. "

Outer coat / HERMES ¥ 170,700
Coat worn inside / GUCCI ¥ 159,000
Jackets worn inside / JIL SANDER ¥ 34,426
Pants / Needles ¥ 17,200
Shoes / LOUIS VUITTON ¥ 81,500
Kume
"I decide what to focus on in the morning mood, but this time I liked the pattern of Gucci's strong pants, so I chose it. It was fun and I mixed street mode among various choices. I was able to be myself. "

Hat TAKAHIROMIYASHITAtheSoloist. ¥ 23,100
Sun glasses Ermenegildo Zegna ¥ 14,800
Jersey inside PHINGERIN ¥ 12,800
Shirt HED MAYER ¥ 22,917
Pants GUCCI ¥ 69,158
Shoes LOUIS VITTON ¥ 52,000
Return to CLOSET top page